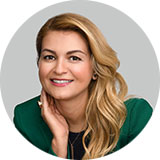 Anda.Marian@iventa.co.ro
+40 21 306 00 01
43 Av. Stefan Sanatescu St
011476 Bucharest
Anda Marian

Partner Romania
Anda brings proven expertise in leadership consulting, particularly focusing on assessment, as well as in organizational development and use of standardized or custom-made tools, quantitative & qualitative data analysis.
Anda is highly competent in designing and implementing complex development strategies, as well as in organizational diagnosis.
She has worked 10+ years in key management roles within HR advisory firms, having completed various projects across all major industries. Before, she had international Sales & Acquisitions roles in Real Estate and Media.
Anda leads our Leadership Consulting practice and is also involved in Employer Branding assignments.