Become part of
our international team.
A multifaceted and international environment
As an employer, Iventa offers a varied and international environment as well as a number of individual development possibilities. We owe our success to our team's , motivation and spirited enthusiasm, because at Iventa, it's the people that count. This is why your personality matters to us.
As a successful consulting company, we provide the opportunity to gain insight into national as well as international organisations and gain profound experience in the various fields of HR services.
At Iventa, you can expect a wide range of career options in the areas of executive search, it-recruiting, media & tec and branding & culture.
Customer focus, innovation and growth are our core principles – passionate Iventa employees can tell you more about that.
So be a part of our dynamic team – we look forward to your online application at www.bewerben.iventa.eu with the ref. number 14544/IV!
Please find curretly advertised positions at Iventa on our corporate social media channels. We look forward to hearing from you!
The people behind Iventa People behind Iventa. Get to know the people and services behind Iventa, The Human Management Group!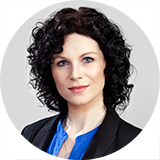 "We support and develop the personality traits of each and every one of us, this way everyone finds their perfect place within the team and contributes to our joint success."
Melanie Parzer, People Manager