Iventa. The Human Management Group.
Leading the way to the right people
Your success is our goal!
Our clients benefit from our wide-ranging HR expertise.
We support your company in the successful search for executive positions and specialists, suited to your specific needs and structure. In our role as a media agency, we assist in all aspects regarding HR advertising initiatives and support companies in becoming a unique employer brand. We help to build the foundation for the success of our clients..
We focus on the individual.
Our services have proven to be effective due to our specific methodology, commitment to superior quality and holistic approach. For us, it's all about you: whether you're a customer, applicant or business associate. Today, 30 years of experience highlight our proficiency as a competent leader in successful HR solutions.
Iventa celebrates 31 years
Fusion of the two subsidaridies Iventa Employer Branding and Iventa EntwicklungHoch3 to Iventa Branding & Culture
Rebranding and establishment of the subsidiaries
Start Iventa IT-Recruiting as a new business Unit
Iventa celebrates its 25th anniversary
Iventa takes over Media4Jobs Advertising and Media Agency GmbH
Five office locations in Austria as well as cooperations with qualified partners in Germany and Central and Eastern Europe
Iventa opens new offices in Salzburg and Innsbruck
Iventa celebrates its 20th anniversary
Further development into an expert for employer branding
Launch of the new service HR Development (Assessment & Development)
Expansion within Austria with offices in Linz and Graz
Martin Mayer takes over the responsibility for operational management, further development into an expert for senior management positions (Executive Search)
Launch of the service Executive Search
Founding of Iventa in Vienna by Christiana Mayer and expansion into a full-service agency for job ads (Media Services)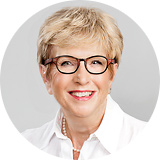 "My motto for success, jobwise as well as private, is 'the secret of I can is I want'"
Christiana Mayer, Founder